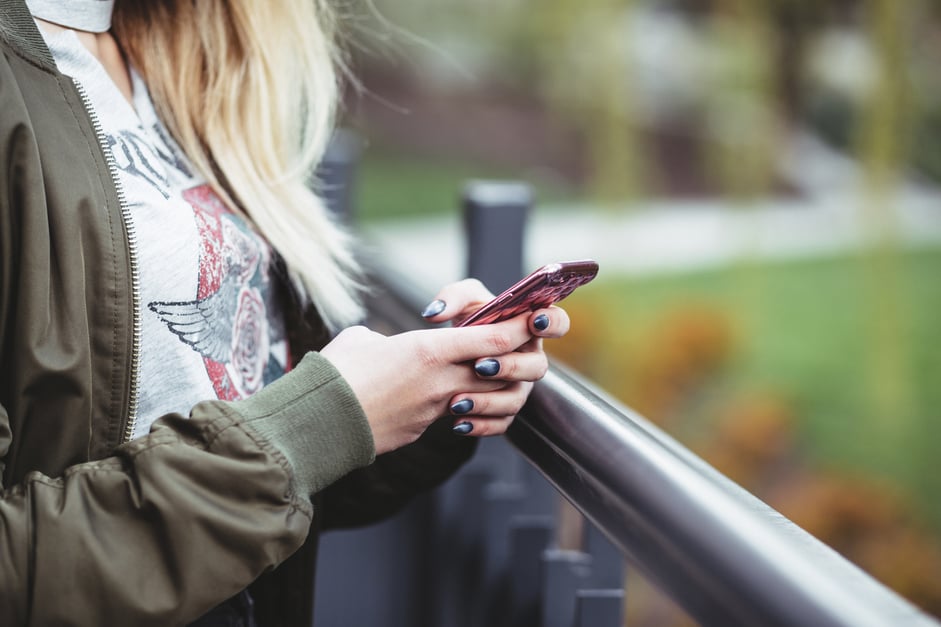 UTIs All Around
Have you ever had a urinary tract infection so bad that you felt the need to tweet about it? Yeah, you're not alone. Here's a list for those of you who just need a little humorous commiseration while you wait for the antibiotics to kick in.
I Can See Your Future...And It Burns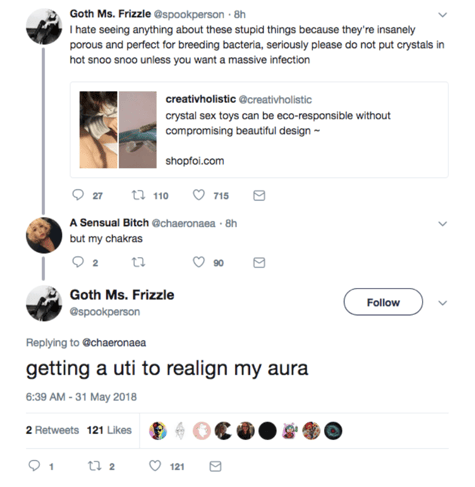 My tarot cards just told me I have a UTI

— Skee ball (@Skylerrobinson0) May 15, 2018
1.

jay, brian molko icon jay, hello i love and appreciate you.

— coven is a Nice Guy™️ (@deadpistols) June 11, 2018
Music That You Didn't Know Was About Your UTI
🎶got peepee, check it and see- I got a fever of 103🎶 (the fever is from a urinary tract infection, pls halp)

— Magic Wanda (@spicyboi69_666) May 30, 2018
This sounds like a urinary tract infection. 😬 https://t.co/TzoUfgO7rH

— Daniel Bennett (@DanielBennettNY) May 25, 2018
Wouldn't it be ironic if The Cranberries singer died of a Urinary tract infection?

— Jiz (@Jizismyname) January 16, 2018
The cold, impassive stare of a man with scant regard for the discomfort of the urinary tract infection. pic.twitter.com/5u0qD9AxvP

— Geraint (@geraintgriffith) April 30, 2018
'Time after Time' is merely just a song about a urinary tract infection.

— ᗷᒪOᑎᗪIE (@paulablu22) May 20, 2016
Burning Man started as a gathering of urinary tract infection survivors.#FakeFestivalsFacts

— Kevin (@kevinwxgg) April 30, 2017
You can't tell me This Girl Is On Fire wasn't about a urinary tract infection.

— Diatonic Dissonance (@urbangaygriot) February 1, 2018
Let's Call These People The Pee Poets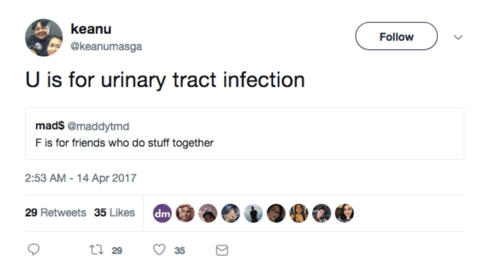 my love for you burns like the sun,
like one thousand cigarettes,
like a really bad urinary tract infection.

— Audrey Porne (@AudreyPorne) February 5, 2018
As an old man, I'm gonna start using analogies more. People expect old men to use analogies when they speak.

"Their love burned like the fiery intensity of a urinary tract infection."#oldmanproblems

— Public Figure Blue Check (@AbleblancDavid) May 30, 2018
I can be romantic:

Your lips
taste like
sulfamethoxazole,
and I have
a relentless
urinary tract infection

— Audrey Porne (@AudreyPorne) September 26, 2017
Amy: "Whenever I am with Sheldon, I can feel my loins are like on fire... In a good way, not in a urinary tract infection kind of way."

😂😂😂😂😂😂 I'll never get tired of this couple ❤

— regina 🐬 (@regietdc_exo) May 27, 2018
People Who Are Confused About UTIs
No, no, no! He told someone he had a USB in his bladder ... he had a Urinary Tract Infection (UTI) 🤣🤪🤣🤪🤣

— Angie 🏝 (@InfinityTimesMe) May 23, 2018
omg congrats!!!! what's a uti?

— blake found dead @ hooters (@ikusabatxt) April 24, 2018
Such things happen daily. Today's instance:

Patient's son: What's her problem, doctor?
Me: She has urinary tract infection
P son: She had buttermilk few days back. Must've been because of that
Me: What do you do, my bright boy?
P son: I'm an engineering student
Me: Figures

— The Bad Doctor (@DOCTORATLARGE) March 6, 2018
idk y I got a UTI when vodka crans are my go to

— olivea (@olivearenzi) May 28, 2018
You might wanna get tested for a urinary tract infection lol

— Jake Hershey (@whosdadisthis) May 29, 2018
Even Celebrities Get UTIs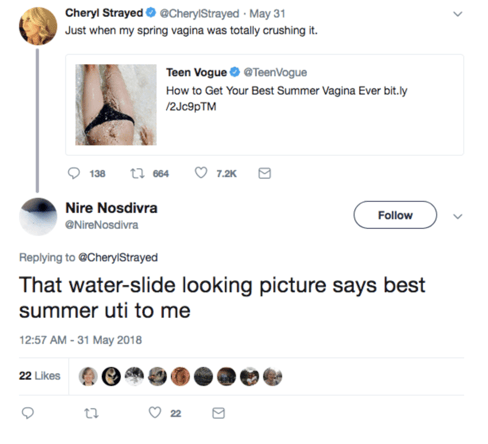 So Amy Schumer got a UTI. I'm sure a new Netflix special is already in the works.

— Jared Monroe (@NotGayJared) April 27, 2018
Actually, my favorite thing about Jared Kushner is that in most photos he appears to be braving through a painful urinary tract infection.

— Mat Johnson (@mat_johnson) May 27, 2017
The Perils Of Dating While Female
I know a girl who was so bad at dating she got a UTI swiping back to front on tinder

— James Fritz (@fritzisdead) May 28, 2018
Worst thing abt being a girl is that you can be sick, on your period, and have a uti all at the same time

— sydney huynh (@Sheepingsyd) May 31, 2018
if he wears ed hardy he'll give you a urinary tract infection

— austy (@slowking) February 26, 2018
my best friend got venmo requested by a girl he broke up with for uti meds (and i think it was a great power move on her part)

— messy magdalene (@messy_magdalene) May 29, 2018
pick-up line i'm considering debuting "why don't u come on over & give me a uti" what do u all think

— Devan Boyle (@devanboyle) May 28, 2018
When Excruciating Pain Is Actually Hilarious
cursed_urinary tract infection pic.twitter.com/uMBcJboPoq

— Cursed Images (@CursedImgs) February 27, 2018
Using the bathroom and receiving a UTI surprise pic.twitter.com/CQLkk85ltZ

— dmanna (@dmannaHQ) May 29, 2018
Purple Urine Bag Syndrome. Apparently a rare, benign condition when a patient has a catheter inserted and a urinary tract infection. Why is it... so pretty... i is confusion pic.twitter.com/M7kckKYqB6

— Arort (@bukhariawesome) March 7, 2018
ME: Is this burning an eternal flame?

DOCTOR: More likely a urinary tract infection. :))

— Pommie Tappet (@pommie_tappet) May 1, 2018
Soooo

I just got out of the hospital for a urinary tract infection (shits just as painful as kidney stones) and yeaaahh

I really need to NOT procrastinate when I have a full bladder huh? 🤦🏾‍♀️🤷🏾‍♀️

— Kaja (@KaiWh0) May 28, 2018
What's worse than having a UTI?? NOTHING. I WANT TO PUNCH MYSELF.

— Katarina (@KatMorrrison) May 23, 2018
Got A UTI? Get Dmanna For UTI Prevention.
even the word "beautiful" has UTI in it, stay safe girls

— G҉R҉A҉C҉E҉ (@scoobysnackslut) April 18, 2018
Dmanna is a prevention tool for patients experiencing chronic and frequent UTI symptoms. The daily stick powder packets contain the only scientifically proven supplement, d-mannose, known to prevent up to 85% of urinary tract infections. Dmanna users avoid harmful antibiotics by including Dmanna into their daily health routines with its convenient, pre-measured packets to kill UTIs before they develop.

Learn more about the UTI prevention power of Dmanna. Click below!