In the world of medicine and healthcare, most of the top companies are led by men, and consequently women's health concerns like pregnancy and urinary tract infections are often ignored or forgotten. Luckily, more and more female entrepreneurs are stepping up to the plate to start companies that advocate for women's health and create the products we really need.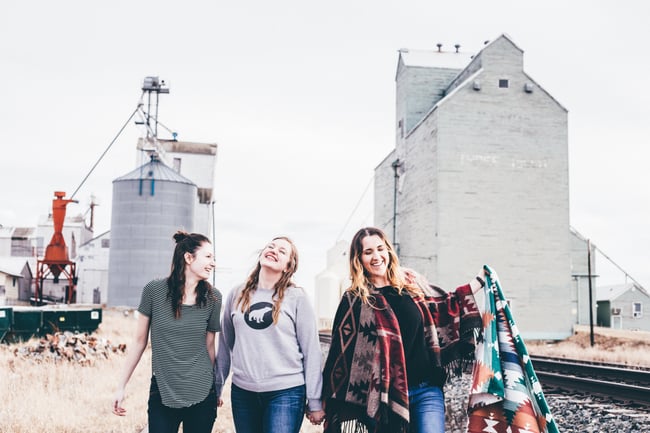 Here are just a few examples of some leading ladies taking women's health matters into their own hands.
"We believe that healthcare is a necessity, not a luxury. And that access to high quality healthcare is critical to improving women's lives. For far too long, we have been left out of the conversation about our own health. No more. Together, we have the power (and the numbers!) to change the way we are treated—to advance women in the workforce, and the world—by giving all women instant access to expert, convenient, and compassionate care."


Better, Accessible Healthcare For Women
Founder and CEO Kate Ryder knew there was a better way to provide healthcare to women. Appalled by the treatment of women and maternal morbidity rate in the United States, Ryder decided to do something about it.


She started Maven in 2014, originally intended to help women through pregnancy and afterward, they are now expanding to include women in all stages of life.


Through Maven, women have access to a multitude of specialists—98% of whom are female—from midwives to mental health providers to nutritionists to sex coaches. Maven is committed to "bringing women's health out of the shadows" and addressing our issues head-on, bucking the taboo associated with menstruation, contraception, urinary health, etc.
Giving Back To The Community
Maven's charitable counterpart, The Maven Foundation, partners with The Children's Village to provide healthcare to homeless young women in New York City, including those who are pregnant or new parents.
Read more about Kate Ryder's vision for MAVEN here.


"We use information to get smart about everything in our lives—relationships, money, school. Why is something as formative as fertility still a black box? So we went to work building Modern Fertility. An easy way for every woman to get the info she needs to make decisions about her fertility."

Affordable At-Home Fertility Tracker
Co-founder Afton Vechery wasn't ready to have children yet, but she felt it was important to know the state of her reproductive health. She found out about a simple blood test she could take to determine her egg count, ovulation cycles, and health of general body functions that have implications for fertility.
Vechery had the test done and was soon bombarded with a large amount of confusing data. Not to mention a $1500 bill. She knew there had to be a better way. How could a simple test cost so much? And how could she make it more comprehensible?


Information is the first step, co-founders Afton Vechery and Carly Leahy believe; you can never be too prepared for the future. They set to work on a fertility test that was affordable, easy to use and understand, and—most of all—accurate.
Modern Fertility Blog
The Modern Fertility blog covers often-discussed subjects such as "How does alcohol really affect pregnancy?", "Does birth control impact fertility?", and "When do you go through menopause?" The blog also covers the science behind the Modern Fertility test, with comprehensive posts about the process and the hormones they measure.
Read more about Modern Fertility here.
"Over 80% of UTI sufferers are women—young women, elderly women, and little girls alike. Over 200 million women and girls will suffer from urinary tract infections this year alone. Until now, there has been no hope for women suffering from chronic or frequent UTIs. Dmanna is changing that. Through scientific research, product development, and community education, Dmanna is working to reduce the number of UTIs contracted annually by half. Instead of waiting for the next infection to strike, Dmanna helps women prevent UTIs for life."

Preventing UTIs For Good
Dmanna founder Sara Rose Harcus was tired of her recurrent urinary tract infections and tired of the lack of options in treatment after getting over 5 multidrug resistant UTIs a year. She was prescribed the antibiotic Ciprofloxacin to treat a UTI early on and suffered serious side effects.

Her first approach to solving her UTI problem was to search PubMed for every available study on urinary tract infections. Her research pointed to one thing: d-mannose. Several studies showed promising results. Some even showed it was more effective than antibiotics for UTI prevention.


D-mannose was the only thing that worked. And it worked significantly better than anything else she had tried. Why wasn't everyone taking this? The problem seemed to be that you literally needed a chemistry degree to understand the literature, which she happened to have.

Having launched several successful companies already, she pivoted her career to start a company that would bring this science-backed solution to the millions of women dealing with UTIs. Thus Dmanna was born.


Putting Recurrent UTI On The Radar Of Health Professionals
Urinary tract infections affect women significantly more than men. As many as 60% of all women will experience a UTI in their lifetimes. UTIs account for as much as 25% of all infections in women.1 Period. So why hasn't there been more research on the effects of and potential treatments for this disease?


Current practice relies on antibiotics to cure UTIs, but with rising antibiotic resistance in bacteria, antibiotics may not be an option any longer. Plus, the CDC estimates that as many as 30% of antibiotic prescriptions are unnecessary.


It's time to start being proactive. There are two actions you can take that have been proven to significantly reduce the likelihood of UTI recurrence. First, increase your water intake to as much as 3 liters per day. Second, take daily d-mannose.
Dmanna For UTI Prevention
D-mannose is the primary ingredient in Dmanna. Include Dmanna in your daily health routine to avoid harmful antibiotics. Dmanna comes in convenient, pre-measured packets of d-mannose powder that dissolves in any drink.


"My symptoms began to clear up almost immediately and now after 5 days I am totally symptom free. I will definitely be using this from now on rather than antibiotics. HIGHLY recommend!" -WebMD user
Try Dmanna, daily UTI prevention supplement, today! Click below to get started.